I'm on leave today to bring my little girl to and back from school on public transport. She is In secondary one this year and has never been out on her own. Tomorrow on, she'll be on her own. I believe I'll get used to her growing up... though she is still my baby.
While she was in school, I had a few hours to myself after running some errands, so it was shop time! The objective this session is to turn down an M8 bolt with a lever to lock the tailstock. The only piece of unknown steel I have in my stock pile was about 25mm in diameter 50mm in length and it was covered with rust. The rest are too small. Didn't make it to completion as I got to pick up my girl to take public transport back. Will do a part 2 if I can finish the job in the next session, or even 3 if I can't.
Here goes:
Please ignore the diagram on the top. I took the measurements from the existing locking bolt. The cap will be taller to allow a tommy bar of sort to be inserted.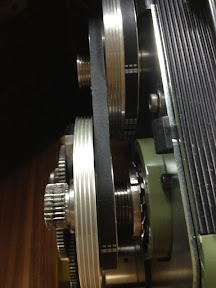 I set the pulley to the 2nd position for 330 rpm (stage 1) and 660 rpm (stage 2). I'll begin with the slower speed of 330 and increase as the diameter is reduced.
Cleaning up the rust. The entire length of the stock was 65mm and about 50mm was sticking out of the chuck (2 times it's diameter).
I started to feed the tool by hand. The surface finish was very bad. Power feed was used at 0.07mm/rev for the next few passes. The surface finish was so much better. I tried, at one point in time, set a depth of 0.2mm. The cut didn't sound too good to me. At 330 rpm, 0.15mm depth seems right, but i thought this lathe can do more?
I did a facing cut to end the session. In my next, hopefully this Friday night, I'll flip the stock around to clean up the other end.
One thought came to my mind on the way to pick up my daughter - if I'm to cut M8x1.25 threads for a length of 30mm, how would I solve the problem of the stock flexing during cut?
Anyone?
- Posted using BlogPress from my iPhone