Didn't expect to receive the software so quickly as I placed the order only last Friday. The courier appeared yesterday afternoon at my office to dropped of the brown box. I ripped the box open to uncover my purchase of the latest Pro version.
Had it installed after dinner with my business partners and friends the very same night. Too excited to wait despite feeling tired. I opened up the image of a baby dog which I was trying to program and apply the latest Advanced Roughing Toolpath. It sure look nicer than what the previous version can produce in simulation when backplotting. Just wonder if it will cut the same. I'm a bit hesitant to try cutting this. It'll take too long - more than 15hrs based on the cycle time displayed.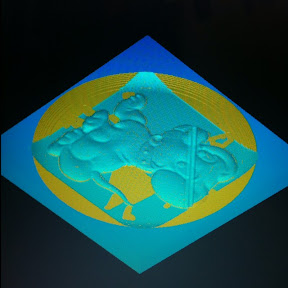 These are the 2 boxes received:
Gotta stop here to prepare for work.
- Posted using BlogPress from my iPhone