I was home alone while my wife was attending a workshop at church. Though feeling tired, I urge myself to start working on the long overdue leadscrew upgrade at the home workshop.
Not trusting that the split vise is clamped flat to the mill table, I've to cut the stock for the top piece of the anti-backlash nut mount to fit my favorite Matchling 3" vise, leaving about 10mm on top of the actual dimensions. The markings were done using the height gauge on the surface plate. I was then stuck with my first problem for the session; the bandsaw gave some trouble when cutting off the excess stock. The blade was rather jerky and didn't sit properly in the bearing guide. But I managed to rough cut the stock to size.
Facing was done next to smoothen down the sawn sides. Though I don't need the 4 sides to be perfectly square, I took the opportunity to practice squaring up stock. The Japanese-made engineering square was put to use against the mill table and the best side of the stock. After going round the stock, I've an acceptable piece; the best almost squared stock I ever achieved.
Next came facing of the top to the required thickness of 6.5mm. I gathered that this is not a critical dimension from looking at Tang Kee's drawings. The gcodes was done using BobCad with a 1/2" HSS 2-flute endmill. The target depth to face is 2.98mm at about 0.25mm per pass. Step over was set at 40% of the cutter diameter.
The whole process took over 1 hour to complete! Midway, I realized that I was actually climb milling... The cutter was going from left to right, from front to back. No problem encountered.
I also observed that there were steps created every time the cutter stepped over the programmed 40% of it's diameter! What a pain!!!
This is how it looks under normal light: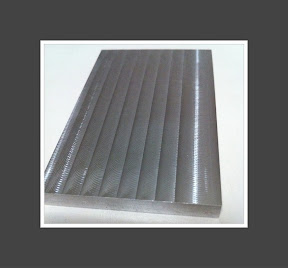 I applied filters to exaggerate the surface: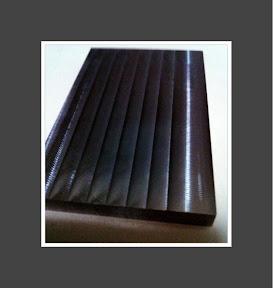 I've tried my very best to tram the mill and yet... Sigh... I can even feel the ridges running my fingers across the surface.
Anyway, a short video of the run midway through:
Anyone can suggest solution(s) to this?
- Posted using BlogPress from my iPhone