Lacking idea what to name this post, I decided to denote each project with the session which the work was done from now on.
In the 1st session, the stock was sized. The surface finish was very much short of ideal but sanding down the ridges on the surface plate put it in an acceptable state. In this session, the 4 x 5mm and the 2 x M5 holes were done using gcode generated by BobCad-Cam V24 (BCC from now on). The profiling part was blanked out as I intend to use the mounting holes to hold the stock on a sacrificial piece before applying the profile cut.
Not much pics were taken. I was focusing on the progress as this was my first time using generated feed rate by BCC, which are usually much faster than what I'm comfortable with. I usually use feed of not more than 200mm/min but BCC output feed of more than 500mm/min. It turns out that the fear of high feed is unfounded on aluminum.
The 4 x 5mm in progress. Notice the 2 centre drill holes at the top - a little too shallow for my liking.
All holes done. The 2 holes in the middle were drilled 4.2mm for M5 screws. These will be the mounting holes for the anti backlash nut from A2Z.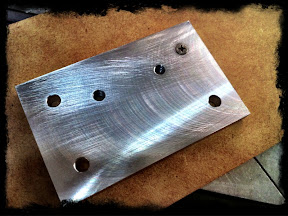 Test mounting onto a MDF 6mm thick. The shortest wood screws I have are a little too long. Will buy some shorter ones tomorrow.
- Posted using BlogPress from my iPhone